Who can benifit from Permanent Makeup?
People with:
An active lifestyle
Contact lenses
Visual impairment
Hay fever and watery eyes
Little or no brow hair
Alopecia (absence of hair)
Sparse or light lashes
Difficulty in makeup application
Unsteady or arthritic hands
Allergies to conventional cosmetics
Scars resulting from accidents or surgery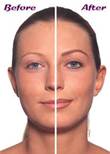 Through the art of gentle micropigmentation we can restore your natural definition, color and balance with Permanent Cosmetics
| | |
| --- | --- |
| Eye Brow | $350 |
| Eye Liner | $300 |
| | |
| | |
Eyeliner:
Are your eyes your best feature? Enhance them with permanent liner. A fine, soft natural line can be created to add depth and definition to your eyes. Your lashes will appear thicker. Color and thickness can be individualized and applied in the style that you desire.
EyeBrows:
Eyebrows are a very important part of your face as they bring a frame to your eyes. Whether you prefer a soft natural appearance or a slighty more dramactic look, the perfect brow is essential. Natural looking hair strokes can be applied in different tones to give the appearance of a full set of natural brows. Others may choose to fill-in or enhance sparse or light.
About the Nouveau Contour digital instrumention:
I am proud to offer exclusively digital instrumentation such as the Nouveau Contour. This instrument is a fully computerized permanent makeup machine that provides optimal results in less time. The digitally controlled microprocessor assures stable needle frequency resulting in more accurate pigment placement and higher pigment color retention.
The Sloped Needle Technique is a more effective way to place color into the curves of the skin using sloped, angled "calligraphy" style needle groupings. This is an advanced method of pigment implantation that requires specialty training. I'm proud to offer the Sloped Needle as one of the many options of micropigmentation for brows, eyeliner, and lips design.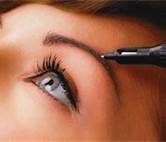 What to expect:
Your procedure will appear much darker the day it is done. This darker color will remain for approximately 3-5 days while the wetting solutions that were mixed with the pigment are being absorbed leaving behind the pigment in its dry form.
The first two weeks after a procedure is called the color stabilization time. The first few hours after a procedure, the color will darken as the swelling subsides. In three to seven days, the epidermal (outer) layer of skin will gradually peel or flake off as the new layer re-grows. Some of the color will come off with this layer. Allow a 10% to 50% fade during this time. Your color will soften with time. Using total sun block and avoiding tanning beds and chlorinated water will help prolong the duration of your color.
I use a two-step topical numbing technique for our clients' comfort. Before any procedure, a topical anesthetic is applied and allowed to set for at least 30 minutes. An additional application of topical anesthesia is applied during the treatment. Most clients remain very comfortable throughout the entire procedure. After the procedure is complete, most clients experience some redness and slight swelling of the treated area. This is temporary and usually subsides within a few hours for eyeliner and brows, and a day or two for lip procedures. Applying ice to the treated area will help reduce swelling and assist in the healing process.